SAMUDRAM - LAKSHADWEEP CRUISES (BY M.V.KAVARATTI)

(KAVARATTI, KALPENI & MINICOY ISLANDS CRUISE PACKAGES - SCHEDULE UPDATES: 2017 - 2018)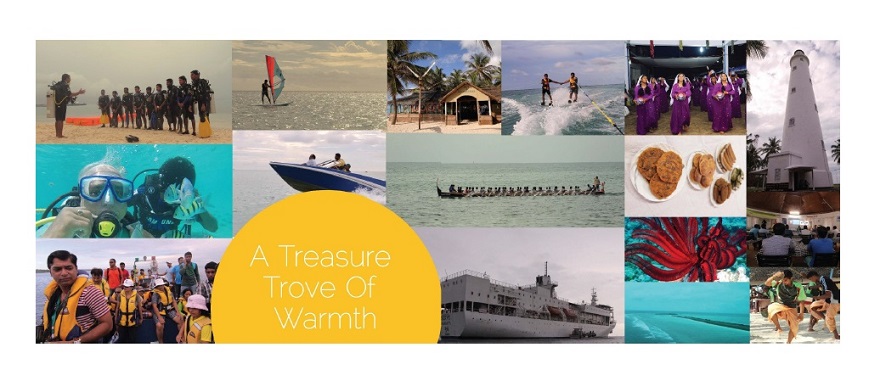 'LAKSHADWEEP SAMUDRAM: 2017 - 2018 BY SHIP M.V. KAVARATTI'
[Samudram Cruise Bookings are open for season 2017 - 2018]

Samudram Schedule Updates between Nov, 2017 and Jan, 2018

The standard voyage schedule of passenger ship M.V.Kavaratti for the Month of Nov, 2017 as follows.

[Place a Query / Order Form]

Departure Date from Kochi

Duration

Arrival Date at Kochi

Islands

04.11.2017
5 Days
08.11.2017
Mcy/Klp/Kvt
11.11.2017
5 Days
15.11.2017
/Klp/Kdm/Kvt
18.11.2017
5 Days
22.11.2017
Kvt/Klp/Mcy
24.11.2017
5 Days
28.11.2017
Klp/Kvt/Kdm
01.12.2017
5 Days
05.12.2017
Kvt/Klp/Mcy
08.12.2017
5 Days
12.12.2017
Kdm/Klp/Kvt
14.12.2017
5 Days
18.12.2017
Kvt/Mcy/Kdm
21.12.2017

*

5 Days
25.12.2017
Klp/Kvt/Mcy
28.12.2017

*

5 Days
01.01.2018
Kdm/Kvt/Klp
04.01.2018
5 Days
08.01.2018
/Klp/Kvt/Mcy
10.01.2018
5 Days
14.01.2018
Kdm/Klp/Kvt
NOW AVAILABLE FOR BOOKING - Kalpeni/Kavaratti/Minicoy/Kadmat
[*Highlighted in red is full or not available for booking. Published on 24 Oct, 2017 and Last Updated: 24 Oct, 2017]
• Annual Dry docking period for MV Kavaratti: From 15th January 2018 to 15th March 2018 the vessel is being scheduled for dry doching [Annual maintenance].

Bangaram, Thinnakara & Kadmat Island Beach Resorts [LTC By Air] Tour Programmes
Bangaram Island, The Jewel of Lakshadweep! Now Available for Booking - Seasonal Tariff - 2017
&
Thinnakara, One of the Most Alluring Islands in the Coral Archipelago of India Also Available Now
&
Kadmat Island Beach Resort Seasonal Tariff - 2017
&
Minicoy Island Ship Programme - Schedule and Tariff - 2017

About Lakshadweep Samudram:-

Samudram Package is a Five Day cruise which takes tourists to Kavaratti, Kalpeni and Minicoy for day excursion. During the day with lunch, refreshments and entertainment such as folk dance ashore. Swimming, snorkeling and other water sports during the day tour. Sight seeing (Marine Museum, Tuna Factory, Villages etc.) by Four Wheelers. Folk dances of local entertainers will be arranged in every the islands. Night spends onboard the ship MV Kavaratti.

Tourist facilitation desk:-

Departures and Arrivals Halls are located at the new Lakshadweep Wharf, Near FCI Godown, Indira Gandhi Road, Willingdon Island, Kochi.

Onboard the ship:-

Onboard the ship a film is shown to the tourist giving a brief history of Lakshadweep, its environment, the coral reefs and its management, the ban on picking up of corals, using plastics and ways to keep the islands clean and enjoy the beauty without disturbing or destroying it. ..Sample Itinerary.

Claim of Leave Travel Concession (CCS (LTC) Rules, 1988)
Entitlement of travel is applicable between the mainland and Minicoy and the Lakshadweep Group of Islands by the ship MV Kavaratti. Tourists availing LTC may collect LTC certificates from Tour Manager on board the ship at the time of return journey. (Transport and tour change bifurcation will be given in the tariff chart. [Place a Query]

• Participating Islands:-
Kavaratti Island
Kavaratti is located 404 kms. from Kochi [Cochin]. The Headquarters of the Administration, Kavaratti is beautiful calm lagoon and forms an ideal spot for water sports. The Ajara and Jamnath mosques (of the 52 on the island) have the best woodcarving and the former has a particularly good ceiling carved out of driftwood. Marine life exhibits can be seen at the new marine aquarium and specimens at the museum. Water Sports facilities available at the Dolphin Drive Centre, is one of the attractions; a favourite spot for water sport enthusiasts. The island is a part of ''Samudram/Coral Reef' cruise programme'. .. More about Kavaratti.

Kalpeni Island
Kalpeni is located only 287 kms. from Kochi [Cochin]. Kalpeni atoll is known for its scenic beauty with the small islets called Tilakkam & Pitti and an uninhabited island on the north called Cheriyam. A huge shallow lagoon encloses all of them. A peculiar feature of Kalpeni atoll is the huge storm bank of coral debris along the eastern & southeastern shoreline. It is a progressive island. It was in this island that girls first went to school, when women's education was considered a taboo. Here, one can swim, reef-walk or water sports on kayaks, sail boat and pedal boat. A visit to the Baniyan Factory and the Light House situated in the island is included as a part of ''Samudram/Coral Reef' Cruise Packages'. .. More about Kalpeni.

Minicoy Island
Minicoy is the southern-most island in Lakshadweep located 398 kms. from Kochi [Cochin]. It is about 10.6 kms. long, the second largest island, the first being Andrott. Crescent shaped, it has one of the largest lagoons. Viringili is the small islet seen to the south of Minicoy. The Island is set apart from the northern group of Islands by its culture. The island is also interesting because of its unique Maldivian character. Mahl is the spoken language here. The light house constructed by the British in 1885, the Tuna Canning factory etc., are some of the landmarks and attractions found in Minicoy. The island is a part of ''Samudram' cruise programme'. .. More about Minicoy.

• Entry Permit Documentations

The Lakshadweep island is a restricted area for outsiders, both the Indian nationals and foreigners. So as the permit requirement is mandatory and it's available free of cost along with the package.
Indian Nationals:  
To apply entry permits, name, age, address and Samudram Voucher/s are required.  [Samudram Vouchers will be issued by us on the basis of full prepayment]
Foreign Tourists:  
A scanned copy of Passport and Indian Visa has to be submitted along with. The Name details has to be submitted for permit documentations for at least 20 days before the travel date. 

Please Note:-

The Samudram Tour Package Programmes are available for both, Indian and Foreign Nationals. Foreign nationals can also avail Kadmat or Bangaram Resorts & Thinnakara Beach Tent Camping Adventures!

Social Media:-
https://www.facebook.com/mvkavaratti/
https://twitter.com/MVKavaratti
https://twitter.com/ScubaIndia/

| | | | |
| --- | --- | --- | --- |
| Class of Accommodation | Transportation Cost | Tour Package Cost | Total |
| Diamond Class(Adult) | Rs.14,000 | Rs.11,000 | Rs.25,000/- |
| Diamond Class(Child)(1-10)yrs | Rs.11,000 | Rs.7,000 | Rs.18,000/- |
Rates in Indian Rupees, Govt. Tax applicable rate (5%) Rates equivalent in Euro currency exchange rate is applicable for foreigners
The rates for the month of December will be 10% higher than the normal rate.



Package Includes:-

Applicable Rate for Children

• On board ship accommodation
• All meals while onboard including snacks
• Adventures & Entertainment Ashore
• Welcome drinks, Lunch and Snacks ashore


• Children Up to 1 yrs. Free of charge
• Children between 1 yrs.To 10 yrs: Rs.18,000/- For 5 Days / Tax extra
• Rate for student group (Min.15 Nos): Rs. 21,800* For 5 Days / Tax extra
The Samudram lakshadweep Cruise [Coral Reef 5 Days] Bookings for 2017 - 2018
[Place a Query / Order Form]

View the sample itinerary of the 5 days Cruise Package "Samudram/Coral Reef Cruise Package"

All the Water Sports activities are at their own risk and the organizers will not be responsible in any manner. View ' Safety Measures '
[Published on 30 Mar, 2016 and last updated: 01 Sep, 2016 Kochi]

Laccadive Islands, Lakshadweep




Lakshadweep is one of the worlds most spectacular tropical island systems. The reefs remain pristine, the people continue to fish, grow coconuts and smile a lot.
And that's in the handful of islands that have any population at all. The vast majority still remain much as they were the day nature conjured them up.
Read full text:
"Accommodation Tariff: 2016 - 2017 - Kadmat, Minicoy, Kavaratti, Thinnakara and Bangaram Island"

Kadmat Island Beach Resort:
A cruise from Agatti to Kadmat onboard the HSC [High Speed Catamaran] will take around 2.30 hours. The blue sea around you is a beauteous vision. The cool ocean breeze and seagulls will give an absolutely unforgettable journey. You will encounter sandbanks, sparkling coral reef, large school of fish and other marine animals. Kadmat is separated from it by a deep channel and thus forms a separate geographical unit. Along with the cool breeze of the sea, the scenic beauties and visions, you are slowly getting closer to the exotic Kadmat Island.
http://lakshadweepforum.com/blogresources/kadmattourism/
https://www.facebook.com/Kadmatisland
https://www.facebook.com/LakshadweepHolidays
https://twitter.com/kadmat/

Thinnakara Island, Lakshadweep:
The charming isolated Thinnakara, an uninhabited island like Bangaram, is now open to both domestic and foreign tourists. The area of Island in Sq. Km 2.3 only but the vast, magnificent lagoon spread across an area of 125.21 Sq kms. The beauty of the creamy sand with the lush green coconut palms form a natural canopy over the whole area protecting from sunlight. Thinnakara island is situated just opposite side of Bangaram island and share the same lagoon. On the north-south edge of the lagoon Parali (i); Parali (ii), Parali (iii) and Kalpitty are situated. Thinnakara is a tiny teardrop shaped island which lies 8 km northeast from Agatti, where the airport is located.
https://facebook.com/thinnakara
https://twitter.com/thinnakara

Bangaram island resort is back in operation like a welcome summer rain!
The Jewel of the Lakshadweep, Bangaram Island is an uninhabited haven. Bangaram presents a breathtaking spectacle of sparkling coral reefs, turquoise blue lagoons, silvery beaches and lush green coconut palms. A wonderful underwater world waits to be explored. The lagoon surrounding the resort offers a great opportunity to explore and indulge.
https://www.facebook.com/BangaramIsland/
https://twitter.com/BangaramIsland/


The Lakshadweep Samudram
Samudram Package is explained as a mix of 'Sun-Sea-Sand and basic water sports'. In the package, tourist spends four nights onboard the ship m.v. Kavaratti and day time spends on the island exploring unique features of each of these islands. Arrangements has been made in all these islands for receiving domestic tourists. During the day with lunch and refreshments are provided at the island resorts.

Adventure & Entertainment Ashore
The organized activities include shore excursions, water sports and entertainments that include folk dances and cultural activities in different islands. Swimming, boating, snorkeling and other water sports is arranged during the day tour. At Minicoy tourists can visit Lighthouse built in 1885, Tuna Canning Factory and Village Houses. Atop the Lighthouse, one will have a magnificent view of the islands. Here, the tourists will be taken for a long drive through dense coconut groves and winding village roads. The scenic beauty and the small islets Tilakkam, Pitti and Cheriyam at Kalpeni, Marine Aquarium, Museum and Mosques at Kavaratti are some of the other attractions.

Charter Packages to Lakshadweep
Laccadive Islands is string of little-known islands, lying 250 miles off the Malabar coast of India. There are 36 main islands in all, forming an archipelago of surpassing beauty. Nature and culture have both remained preserved over the centuries, miles from the mainland and the trade routes. This is a world of silver sands and clear warm waters, of submerged banks and virgin reefs, enclosing a fascinating underwater world.

The uninhabited islands consists Bangaram, Tinnakara, Tilakkam and Suheli. Kalpity, Parali 1 & 2, which are nearby Agatti island. The 10 inhabited islands are Minicoy, Andrott, Kavaratti, Kadmat, Agatti, Amini, Kalpeni, Kiltan, Chetlat and Bitra. Four of the islands Bangaram, Agatti, Kadmat and Minicoy are now open to both domestic and foreign tourists.

The reefs remain pristine. The people continue to fish, grow coconuts and smile a lot. And that's in the handful of islands that have any population at all. The vast majority still remain much as they were the day nature conjured them up.